FOOT REFLEXOLOGY:
'Learn more about what Foot Reflexology can do for you!'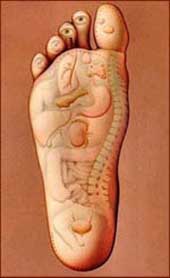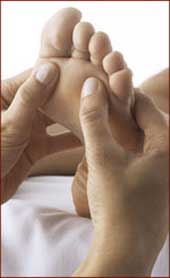 ---
What is Foot Reflexology?
Some people consider foot reflexology to be just about a foot massage. However reflexology dates back at least 5,000 years ago and has a history in culture of India, Egypt, China and Native American cultures. Nowadays famous stories continue to be presented by the tabloid press reports about Princess Diana and the English royal family use of foot reflexology since 1985. Princess Diana appeared to have gotten manicures, pedicures, and foot reflexology three times a week.
Foot reflexology is an alternative science that deals with the reflex areas in the feet, which correspond to all of the organs and systems in the body. These points are worked on in specific foot massage manipulations that are generally pleasant and are done while you relax.
But doing reflexology means far more than working on your feet. It is actually more like working with the person, attempting to mobilize inner energies: physical, mental and spiritual energies. The goal is to fight any imbalance in the system.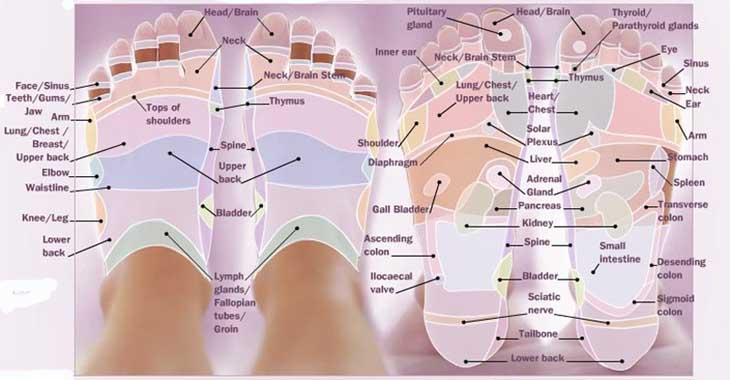 The benefits of foot reflexology for you & your feet!
The basic principle of reflexology is derived from how the central nervous system works via a so-called 'reflex arc' - which induces a body reflex response without getting the brain involved (the so-called 'primitive reflexes' also work according this principle).
Sometimes people visit a foot reflexologist because they want to know why they don't feel good. When there are no alarming signals - which would indicate the help of a medical doctor - the foot reflexologist reviews their general health + state of mind. In order to assess and integrate the information based on the feet show. Frequently, everything on the surface appears to be 'okay', yet the person doesn't really feel oke.
Foot reflexology is an excellent tool to become aware when people are alienated from certain aspects of themselves, which inevitably cause suffering and pain. Pain and suffering are the signal for a need to change something for the sake of our "wholeness". A foot reflexologist will not solve people's problems, as only THEY can do this themselves. But often the foot reflexologist can help them break a cycle where people are actually free to make choices. Yes, all this through the feet. Amazing?
- Research -
In 2004 a Thai foot reflexolog study on HIV/AIDS patients at the Ramathibodi Hospital in Thailand indictated that (quote):

"Conclusion True foot reflexology may offer a low cost, effective nursing intervention to reduce the symptom of fatigue and pain for hospitalized AIDS patients. The numeric pain intensity item was reduced in both groups, but not significantly, and this may be due to an inadequate power in the study to detect a potential difference. Foot reflexology is a way to enhance the nurse patient interrelationship. It offers a strategy to fulfill the goals for human touch and holistic nursing care. It can be performed at any location, is non-invasive, and does not interfere with patients' privacy.".
NOTICE: likewise principles are being applied in foot reflexology to the feet, and likewise principles are being used in ear reflexology to massage the ears.
---
FOOT REFLEXOLOGY
- The hand (and foot) represent the most differentiated part of the human body! -
Key topics in
foot reflexology are:

What is foot reflexology? Combination of foot and hand reflexology | My foot reflexology maps: foot models and map of the foot | Reflexology foot pain | Foot reflexology how to give the best foot reflexology | Reflexology right foot & left foot | Foot reflexology point: better health with foot reflexology | The major benefits of foot reflexology and a doctors foot massage.

Foot reflexology, where is it most populair?:

Foot reflexology is very popular in the USA (san francisco, Phoenix, San Diego, Seattle, San Francisco, New York and Los Angeles), Canada (Toronto), Singapore (Singapore City), Malaysia (Kuala Lumpur), Philipines (Cebu, Quezon City, Manila, and Makati), Australia (Perth, Brisbaine, Adelaide, and Sydney), UK (Belfast, St. Albans, Watford, Bristol and Reading), and Hong Kong.